BRENTWOOD CUSTOM HOME BUILDERS AND REMODELING
NASHVILLE SUBURBS | WILLIAMSON COUNTY
REMODELING AND HOME RENOVATION IN BRENTWOOD, TN
Sebring Design Build is proud to now offer ensign and remodeling services in Brentwood, Tennessee. If you live in Brentwood or the surrounding suburban areas, you can consult with our experts to learn how to turn your remodeling dreams into a reality.
We are dedicated to listening to your needs to create the perfect customized remodeling plan for your home. We will be with you every step of the way, from the very first consultation phone call to the final inspection of your new home. With absolutely no obligation to you, we will help you determine the best design, style, and budget for the project you have in mind. By having an initial conversation with us, you can decide whether we are your perfect fit.
Remodeling in Brentwood
One of our mottos is that communication can go a long way. We will never undermine the opportunity to have a full, clear, concise, and candid conversation with you. We do not stop until everything is right by your standards, not ours.
What sets us apart from the rest?
We listen. We will help you cover all areas of concern regarding your next remodeling project, from budget, to design styles, to architectural restrictions in your home. We will even draw up a custom plan for you using our in-house CAD software.
If you are looking to rebuild your kitchen, update a bathroom, or build an entirely new home from scratch, our remodeling experts in Brentwood, TN can help you get the job done right. No renovation plan is too big or too small for our flexible team.
Bryan was born and raised in Glen Ellyn, Illinois and has been in the construction industry since 1993.  He opened Sebring in 1999 and has been doing what he loves ever since; remodeling & home building while developing close friendships and lasting relationships with customers.
In 2020 Bryan decided to move the Sebring family to Franklin, Tennessee, a suburb of Nashville to support his eldest daughter Brye as she continues work with her record producers on her next song releases.  In addition, Sebring has launched a second location and Bryan continues to travel between both locations.
Click here to learn more about Bryan's Story
BRENTWOOD HOME REMODELING PROJECTS
When it comes to our past work, the results truly speak for themselves. We have worked on homes large and small to build new bathrooms, expand on existing kitchens, and even add additional family rooms to the house. We can help you invest in a complete overhaul or a simple room refresh, each with unique results and a room you will love.
Mary's Willowbrook Basement Remodel Pictures
Bryan Sebring
2022-06-14T15:47:23-05:00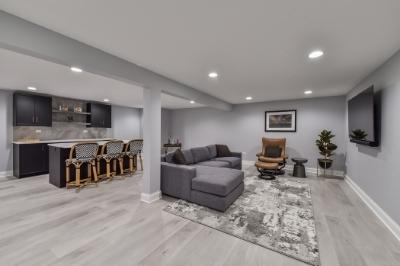 WHAT OUR CLIENTS IN BRENTWOOD SAY ABOUT SEBRING
As we work to provide the very best in services and customer care, we rely on our clients to help spread the word about our experience. What we care most about is putting the needs of our customers first; this is why we have let our clients take the front seat and provide testimonies to others.
Our success relies on our loyal clients and happy customers. We can offer brand-new remodeling and home renovation services in Brentwood because of the reviews left by gracious clients. Take a look at what a few of our recent clients have to say about our home remodeling and design services:
Why Choose Sebring Design Build for Your Brentwood Project?
Why do so many clients choose Sebring Design Build over other contractors? As a resident of Brentwood, you know you have many options when it comes to home remodeling and renovation. Our design, build, and customer service teams are one in a million because we are not satisfied until you are.
" As soon as I had a meeting with Bryan Sebring and he drew up an initial proposal, I knew I was done shopping for contractors. When you meet someone that you know you can trust implicitly to assist you with major decisions and send you to good suppliers, and whose staff you can trust in your house for 8 weeks without any homeowner supervision, your decision transcends price… "
" I would highly recommend Sebring! All those that were involved in my home remodel were both professional AND nice. Bryan provided all services that were expected and on some occasions went beyond with what was necessary just to make us happy. Thanks Sebring! "
" My experience with Sebring felt right from the start – I felt comfortable and at ease from the first meeting and throughout the entire project. The entire team was extremely friendly and professional and always helpful! They were prompt in answering questions and returning calls and very accommodating. They were clean and courteous and respectful, which I truly appreciated. I would definitely recommend using Sebring!! "
" We used Sebring to remodel our bathroom. They were very professional and the end result is just beautiful! Everyone was prompt, courteous and very skilled. The price was very fair. Justin, in particular, went out of his way to make sure everything was perfect! I highly recommend Sebring! "
Arguably the cornerstone of any home or apartment, the kitchen is essential for many of life's daily activities. Not only is it a place to store and prepare your daily meals, but it is also often a gathering place for the whole family to convene after a long day. The kitchen can be the space you are most excited to show neighbors and friends when they come for your grand housewarming tour. You deserve to feel that good about your beautiful kitchen.
The kitchen should reflect the heart and soul of your personality, style, and comforts. At Sebring Design Build, we take all of those elements in line with your preferences to create a design that honors your lifestyle. We can help you turn your ideas and dreams into a reality that doesn't just meet but exceeds your expectations.
What Comes with Your New Kitchen
What exactly does a kitchen design Brentwood project entail? Our remodelers offer unique plans and design services for each project, with enough advice and materials to support you throughout the entire process.
Here are just a few of the services you can expect to receive when you hire kitchen remodelers in Brentwood, TN:
New kitchen island replacements or installations
Wall removals to open up the space
New countertops
Cabinet installations
Flooring and backsplash designs
We have completed kitchen remodeling projects of all shapes and sizes in Brentwood, Franklin, Nashville, and the surrounding areas in Williamson County.
What Makes Sebring the Best Kitchen Remodelers Brentwood, TN Has to Offer?
There are plenty of kitchen remodeling choices that you can make on your own. But if you are tired of going the DIY route, you can take a lot of time and stress off your hands by finding a contractor who listens to your need and preferences. While it is satisfying to invest in a project on your own, you might not receive all the benefits that a professional remodeling job can bring you.
That is why many homeowners in Brentwood consider Sebring Design Build for their kitchen remodeling projects.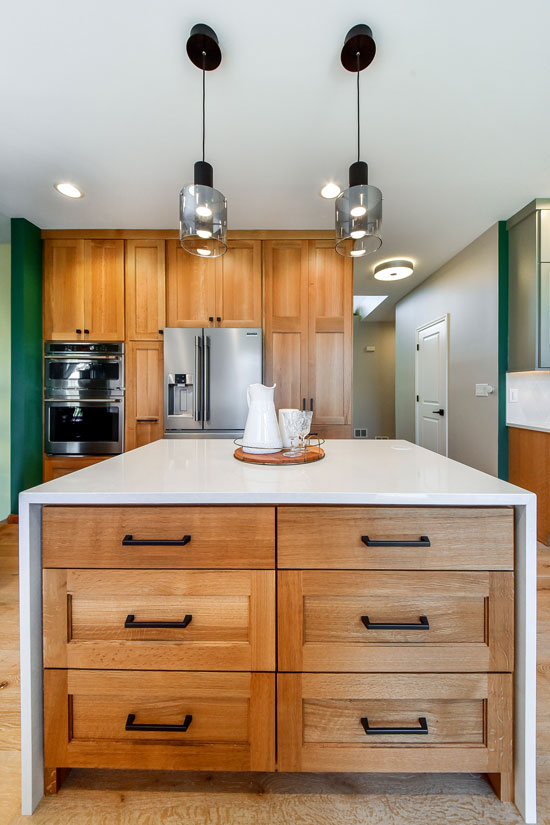 But what makes us the best choice for you?
Industry-Leading Experts in Construction: We have established a reputation as one of the most reliable kitchen remodeling experts in the area, as we offer experienced construction and design services to any project large or small. We guarantee that all workmanship is high-quality and long-lasting.
Increased Home Value: When you invest in a home remodeling project, you aren't just investing in your favorite style. You are making a long-term commitment to increasing the value of your home. New construction and recent renovations can add thousands of dollars to your home's value, which will be convenient in the future if you ever want to sell.
Design and Planning Services 247: As soon as you start your project with us, we will match you with one of our in-house designers to help you draw up the perfect renovation plan. You can work together to come up with a great kitchen concept, with revisions and requests available during any part of the process.
Increased Functionality: Improving your kitchen means improving your life. Since the kitchen is such a multi-faceted part of the home, it is crucial that you can perform all of the room's functions with ease. Our designers can help you arrange your kitchen in a way where you can access your utensils, appliances, ingredients, and storage units all with equal amounts of ease.
What to Consider for Your New Brentwood Kitchen
Are you interested in remodeling your kitchen but you have no idea where to start? The first step in the renovation process is to draw out all of your plans. The brainstorming phase can be fun but also overwhelming when you don't know what to prioritize first.
To assist and assess your home remodeling needs, our Brentwood remodeling team can help you consider the following kitchen renovations:
Windows and Doors: A kitchen isn't complete without a good dose of natural light. Since Brentwood has plenty of sun for the seasons, you don't want to waste an opportunity to let that light shine through. This might be a good time to reconsider door and window placement to let in more light.
Sinks and Plumbing: The kitchen sink is the pièce de résistance of the space. It is important to find a sink that matches the rest of your style, but it can be hard to find one when the rest of your style isn't planned out yet. We will help you determine a good working height and width for your sink.
Worktops: The counters are essential for providing good working surfaces. You should be able to enjoy plenty of counter space, even if the kitchen is on the smaller side. Never underestimate the importance and functionality of a worktop in the kitchen.
Layout: One of the golden rules of kitchen design is that all major parts of the kitchen should be easily accessible from one another. Being able to walk in a line from the fridge, to the sink, to the stove can help maximize the efficiency of the space. Our designers will keep the rule in mind while also considering your personal preferences.
Replacing Cabinets in Brentwood
It doesn't take a Sebring Design Build expert to know that replacing cabinets in a kitchen is quite the undertaking. In fact, for most Brentwood homeowners, this is the most time and labor-intensive part of remodeling their kitchens. This is especially because cabinets are so prioritized first as they provide handy storage space and create an impressive visual effect on the room.
Regardless of your size or budgetary constraints, we have plenty of styles and materials to suit your needs. At Sebring Design Build, we carry the Welbourn Cabinetry line of cabinets, offering everything from traditional to modern choices at an affordable value.
When choosing the right kind of flooring, you might want to consider:
Door Designs: The cabinet doors are the most noticeable part of the cabinet, so their decoration and design are typically the most important parts of the process.
Colors: Our available inventory and materials allow you to choose between 80 different colors of cabinets and finishes, helping you find as close of a match to your design needs as possible.
Hardware: The finishing touch includes handles and knobs that are sure to stand out in a crowd. Choose between chrome, metal, brass, or painted wood for a unique look to finish up the job.
Renovating Your Flooring
In the chaos and hubbub of your kitchen remodeling project, it is easy to forget about something that has been right under your feet the whole time: the floor! New flooring can enhance the look and value of your kitchen, but it can do so in a way that is subtle enough to not detract attention from the main focal points of the room.
Our experts will suggest flooring options that range from tile to hardwood in order to give your kitchen a fun or elegant new look.
Replace Old Countertops
Countertops are easily the most eye-catching part of the room, and you can turn just about anyone's gaze with a dazzling set of new stone slabs. There are custom or premade options available on the market with a range of stone options available. Choose from marble, granite, quartz, and all-natural stone to keep your kitchen remodeling plans consistent.
Add a Kitchen Backsplash
The backsplash is one of the finer details of the kitchen, but it can still make a huge difference. Think of the backsplash as one of the finishing touches that can add just a pop of color or connect the top and the bottom of the room in the design. It is hard to see how something as small as a backsplash can make a difference when you don't have the whole picture in mind. That is why our experts at Sebring Design Build are here to help you work on your dream every step of the way.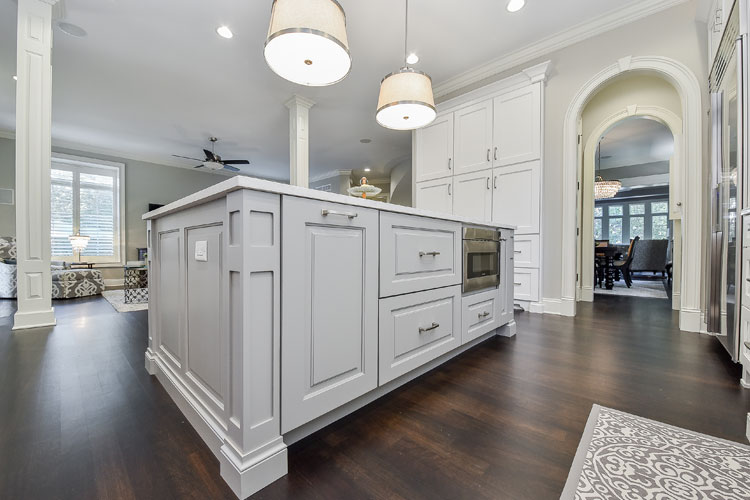 Looking to remodel your kitchen? Get in touch with our Brentwood kitchen remodelers today and schedule a one-on-one consultation. Our designers can offer you some suggestions and advice with absolutely no obligation to you. Find the right project guides and pricing on our website today!
BRENTWOOD BATHROOM REMODELING
The bathroom is one of the most essential and functional parts of the house. From the moment you wake up to the final minutes of the night before bed, you spend time in the bathroom. It is a space where you can enjoy privacy while also taking care of your hygienic needs. For these reasons, it is important that your bathroom is a place where you can feel comfortable.
A Brentwood bathroom remodeling project can be the perfect way to feel better about the state of your bathroom. If you are tired of feeling chipped tile under your feet and having a stained porcelain tub that no amount of bleach can fix, it's time for a completely new look.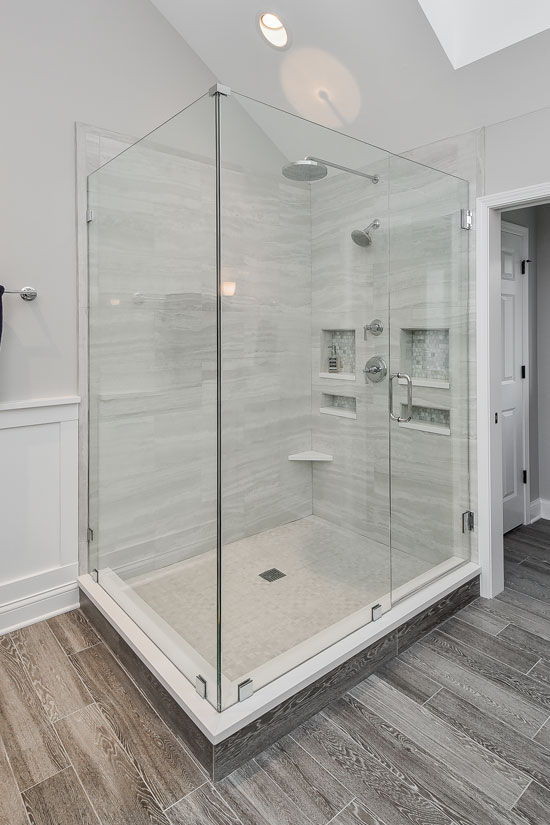 Old bathrooms provide less function and are much less visually appealing. A bad bathroom can dramatically decrease the value of your home, which can put you in an even worse mood every time you go to use it. You are due for the updated and functional bathroom of your dreams.
But a good bathroom remodeler is just as essential as an updated bathroom. Our experienced bathroom designers and remodelers at Sebring Design Build can work with you to turn your space into a place of rest and relaxation. No matter the size of your bathroom or the state it is in, we can help you refresh it with a revamp that will make you feel like you are on vacation every time you take a bath.
Bathroom Remodels with Our Team
What does a bathroom remodeling project with Sebring Design Build look like? Our full-service contractors and one-on-one design teams are passionate about creating a unique bathroom remodeling experience for your Brentwood home, and we want to bring your dreams to life however we can. We can help you find the most suitable materials and budgetary requirements to suit your preferences.
Your new bathroom will be met with:
High-Quality Construction: Our Brentwood bathroom remodeling team consists of vetted contractors with high-end industry experience. We guarantee that all work will be performed in a timely manner and we will never stray from the schedule we make with you. We clean up after ourselves and abide by the best policies and safety practices possible. We are precise and thorough from beginning to end.
Style: It is important that your style preferences are met in every way possible. We will use all of our available materials and resources to help you match your preferred bathroom style. We can also offer advice and let you know what style elements best provide functionality as well as beauty. There is no reason why you shouldn't get the best of both worlds.
Non-Stop Communication: From the very first consultation to the final inspection process, we never stop communicating with you. We will listen to your preferences and needs so we can understand exactly what your dream is. The more details we know about, the easier it will be for us to help you bring your vision to life.
Get the Best Bathroom Remodeling Designs in Brentwood Today
If you are like most Brentwood homeowners, you do as much dressing up in your bathroom as you do dressing down. The bathroom is the same place where you get ready for a night out and come back to when it is time to clean up before bed. It isn't just for your needs, but for your fashion. It only makes sense that your bathroom should be designed in a way that best reflects your style!
Through a remodeling plan, we can help you find the right appliances, installations, colors, and features to add to your new bathroom. Not only will you start to enjoy visiting your bathroom, but you will increase the value of your home in the long run.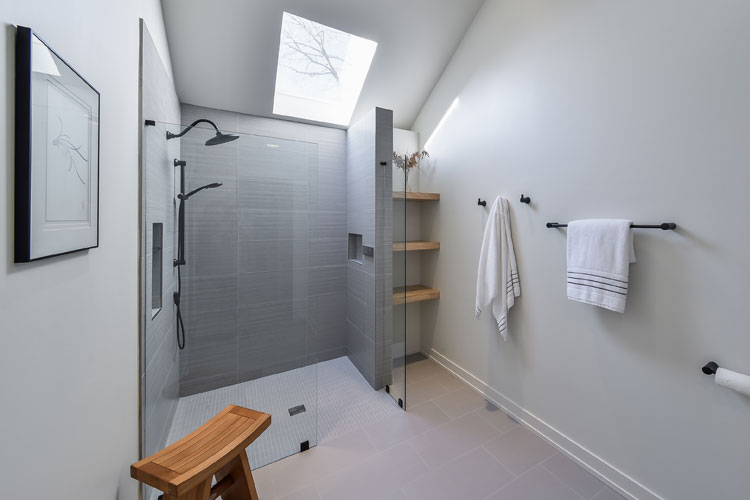 New Bathroom Designs and Amenities
Sebring Design Build offers both small and large-scale bathroom remodeling features to clients all across Williamson County. Many homeowners give up on the dream of ever remodeling their bathrooms due to the small size or awkward placement of the facilities. No matter what kind of obstacle it is, we can help you transform the bathroom into a completely new space.
With the right materials and experience, anything is possible. But we wouldn't be anywhere without the basics. We will first review and work on essentials such as:
Cabinets: Good bathrooms have plenty of storage space, and it is vital to make good use of storage space in smaller bathrooms. You can maximize the efficiency of your new bathroom by installing more cabinets and providing more nooks and cubbies for storage.
Baths and Showers: Probably the most important part of the bathroom (aside from the toilet, of course), the baths and showers are some of the first to be updated in a remodeling project. There are plenty of options for bath-shower combos or standalone showers on the market.
Flooring: You can upgrade old tile to heated flooring or simply invest in new tile for moisture resistance. The floor keeps the rest of the bathroom intact, and should not go unnoticed.
Fixtures: Toilets, sinks, and other fixtures are essential components in any kind of bathroom. You can upgrade your toilet size to accommodate the overall dimensions of your bathroom in a way that saves space.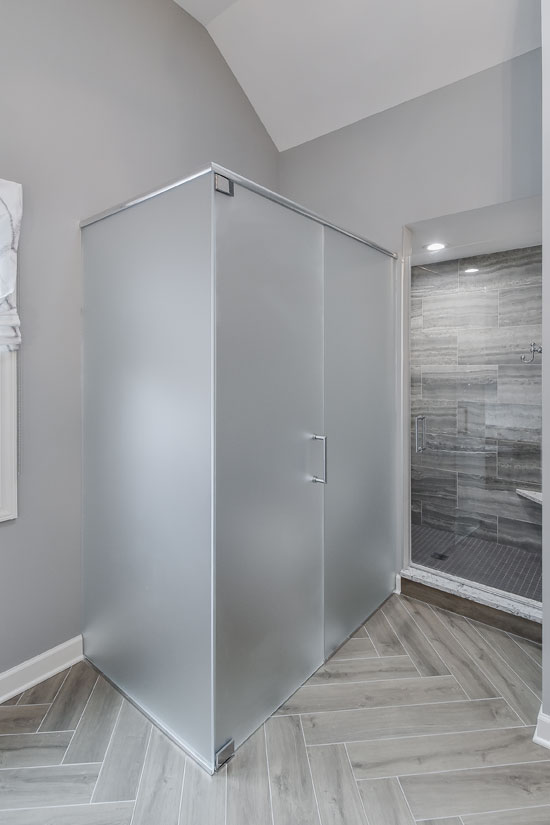 Many homeowners have a vision of what they want, but they aren't sure exactly how they are going to get there. We can make suggestions to help improve the look of your bathroom based on common and popular design choices picked by other homeowners in the area:
Install New Lighting: Sometimes a change of lights can totally transform the ambiance of the room. New light fixtures can brighten space around the mirror or create mood lighting the next time you want to relax in the tub.
Remove the Tub: If you don't take a bath very often, you should get rid of it. It takes up too much space otherwise. Standing showers are easier to get in and out of and they take up less room.
Install Upgraded Equipment: You don't have to turn your bathroom into a space station, but a new smart toilet model or efficient water heating systems can go a long way in providing elevated comforts in the space.
The bathroom remodeling work doesn't stop there. At Sebring Design Build, we offer additional services and can provide more amenities to your bathroom. We have a wide inventory of features available for your consideration, including:
Heated floors
Glass shower doors
Custom shower heads
Handheld showers
Above-toilet cabinetry
Floor cabinetry
Shower benches
Built-in shelves
Niches and nooks
Glass and stone tiles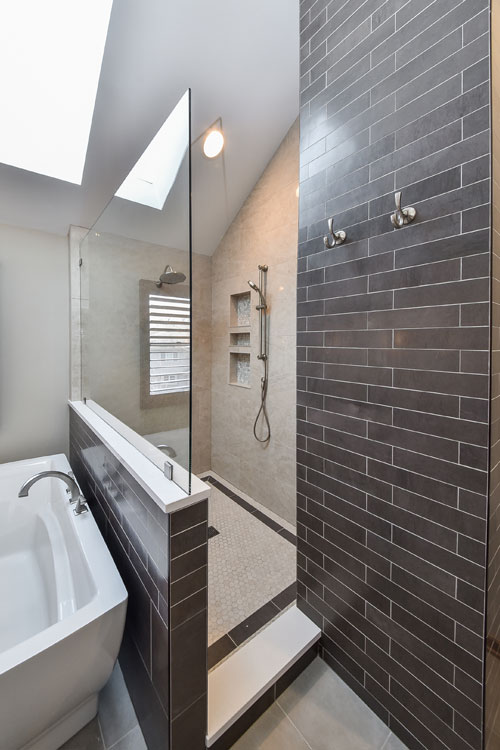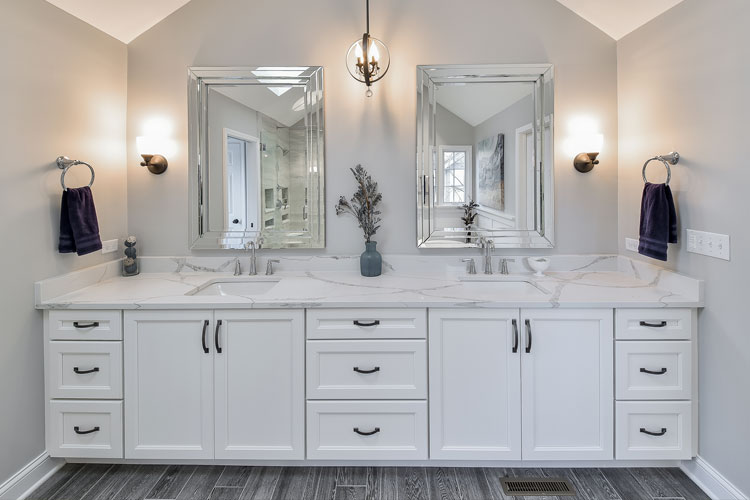 Get a New Brentwood Bathroom Today
Our personal Sebring team will work with you to come up with an affordable and feasible remodeling plan for your Brentwood bathroom, no matter the size or state that it is in. We will work with you and we will not be finished until you are completely satisfied with the end result.
We will listen to your needs and communicate with you to create a solid remodeling plan. From brainstorming to construction, we can ensure that your vision remains true. If you are looking to get rid of your old bathroom fixtures and bring in a new and refreshing design into your space, give our Brentwood experts a call today.
NEW HOME IN BRENTWOOD, TN
Are you building a brand-new home in Brentwood, TN? Our custom home builders Brentwood, TN experts can provide room addition services to expand the style and value of your home. We know that building on a new plot of land is tricky, but our experienced contractors know exactly what building codes and ground rules to follow. We will make sure that your new home is built the right way.
If you are looking for a small room addition to your existing home or you are starting from scratch, our design team can help you reach perfection. Contact our sophisticated and creative Brentwood-based team today to learn more about the renovation possibilities in your future.
New Family Room Designs
Want to improve living space for a relative who is moving in? Do you have a baby on the way and you want to create a family room that is safe and comfortable for loved ones of all ages? Our contractors can help bring your vision to fruition. A home resize is not something to be taken lightly, but it is something that can bring you plenty of satisfaction and even profit in the future.  Our contractors can help you create a wonderful and unique design for the newer parts of your home.
How to Add New Spaces to Your Home
Have you always wanted your own personal hangout room but there is not enough space to do so? Now is your chance to exercise your style while also putting more money in your pocket in the long run. You deserve to have joyful daily experiences with a nice room to relax in at the end of the day. Our custom home builders in Brentwood, TN can bring value to those daily experiences by adding a brand new room to your home.
SEBRING DESIGN BUILD IS YOUR PREMIER SOURCE FOR DESIGN AND REMODELING NEEDS IN BRENTWOOD!
Why would you work with Sebring Design Build in Brentwood? Our experts have years of industry experience and unmatched skill and precision. We can transform any and every room of the house into a completely new space that offers increased beauty, functionality, and financial value.
Our biggest goal is to make you happy. But beyond that, we also want to give you the highest-quality services, construction materials, and workmanship possible. We feel that we deliver on our promises as many of our clients come back to us time and time again whenever the need for a new project arises.
When everything is finished, we still aren't. We will order a thorough inspection and ask you to sign off on the final results before we consider the project done. We will not stop until you are satisfied.
Our remodeling services typically include:
Whole-home remodeling
Brentwood kitchen remodeling
Brentwood bathroom remodeling
New home construction in Brentwood
Room additions
Basement and attic renovations
No matter the size, shape, style, or state of your rooms, we will invest in your project. Get ahold of our design experts today and let us know how we can create a space that matches your ideas and needs.
Don't DIY!
It is tempting to start work on your own. Consulting with a professional contractor takes time, and the process of getting quotes and waiting for a start date can be annoying. Our team understands this better than most. But when you consider the end result and what you can get with the help of a professional, you will find the extra up-front investment to be well worth it.
Sebring Design Build offers unique and extensive customer service solutions to help you out in ways that no other contractor can. Through consistent communication, we are opening up a 24/7 channel with you to help funnel your ideas and listen to your needs at any time.
You can even plan for the perfect remodeling project before you talk to us. Check out our free guide, Remodeling 101: A Free Homeowner's Guide, to learn about the basics of home remodeling and the biggest things to consider when starting a construction project. This guide will also teach you about the rights you have as a homeowner and as a customer of Sebring Design Build!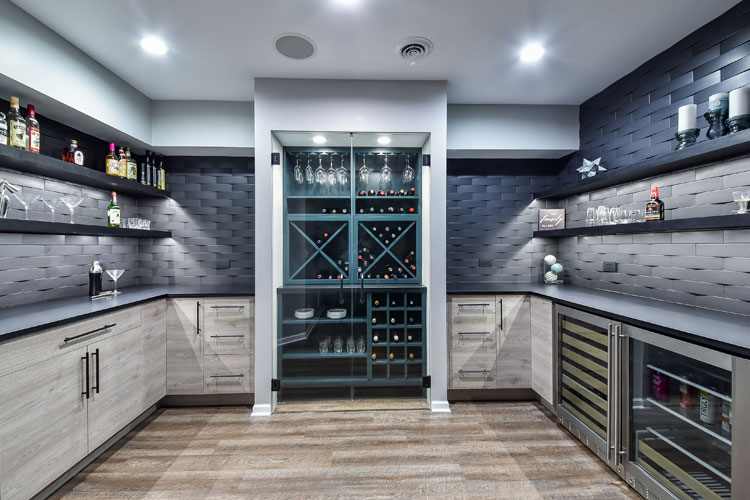 What Construction Project Management Means to Us
Our construction project managers go above and beyond to deliver the best in skill, detail, and handiwork. Your assigned designer will keep a log of every conversation, noting all of your needs and preferences along the way. They will continue to communicate with you and provide updates each day so you can always remain on the same page.
You'll also be able to track the status of your project in real time with the online portal. You can log in and view the materials that you have purchased or ordered and get a look at the roadmap of the entire plan so you can see when the project will be done.
CONTACT SEBRING TODAY
For the past two decades, Sebring Design Build has been committed to the highest quality service and customer satisfaction on the market. We are proud to bring you a wide range of remodeling and home design services that range from small repairs to whole-room overhauls. If you are a Brentwood homeowner looking to make some much-needed changes to your home, get in touch with our friendly experts today.
Request a consultation today and speak with a personal project manager about your design preferences. Learn more about our process and see why Sebring Design Build is a perfect fit for you!