Downers Grove Kitchen Remodeling, Basement Finishing, Bathroom Designs, & Home Additions
Chicago Western Suburbs | Dupage County | Kane County | Will County
KITCHEN, BATHROOM, & BASEMENT REMODELING IN DOWNERS GROVE
At Sebring Design Build, we offer comprehensive design and remodeling services for interior spaces, from conceptualization to implementation in Downers Grove IL. Our focus is on delivering practical functionality coupled with stunning aesthetics. Sebring Services' experienced team is committed to helping you through the process of designing and remodeling your entire house, including your kitchen, bathroom, basement, mudroom, and attic. We have undertaken many projects all over Dupage County, in the Western Suburbs of Chicago-land and our vast customer base is a testament to the quality professional services we provide consistently.
All successful renovations begin with determining the rooms that require remodeling, the key is to maintain a sense of harmony throughout your home by using consistent design elements and style throughout the different spaces.
DOWNERS GROVE REMODELING PROJECTS
Mary's Willowbrook Basement Remodel Pictures
Bryan Sebring
2022-06-14T15:47:23-05:00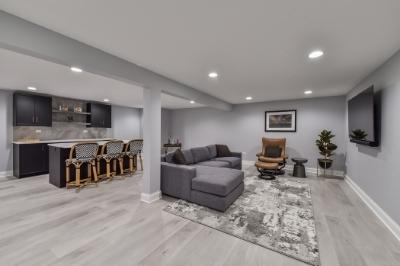 WHAT OUR CLIENTS IN DOWNERS GROVE SAY ABOUT SEBRING
" As soon as I had a meeting with Bryan Sebring and he drew up an initial proposal, I knew I was done shopping for contractors. When you meet someone that you know you can trust implicitly to assist you with major decisions and send you to good suppliers, and whose staff you can trust in your house for 8 weeks without any homeowner supervision, your decision transcends price… "
" I would highly recommend Sebring! All those that were involved in my home remodel were both professional AND nice. Bryan provided all services that were expected and on some occasions went beyond with what was necessary just to make us happy. Thanks Sebring! "
" My experience with Sebring felt right from the start – I felt comfortable and at ease from the first meeting and throughout the entire project. The entire team was extremely friendly and professional and always helpful! They were prompt in answering questions and returning calls and very accommodating. They were clean and courteous and respectful, which I truly appreciated. I would definitely recommend using Sebring!! "
" We used Sebring to remodel our bathroom. They were very professional and the end result is just beautiful! Everyone was prompt, courteous and very skilled. The price was very fair. Justin, in particular, went out of his way to make sure everything was perfect! I highly recommend Sebring! "
KITCHEN REMODELING AND DESIGN IN DOWNERS GROVE
There is a certain warmth around the kitchen that is not just because of the cooking that takes place there. It is a warmth and coziness borne out of moments spent there alone or with family, whether cooking up a fancy dinner or quietly drinking a cup of coffee.A kitchen's beauty also depends greatly on how it looks. This includes important aspects such as color, space, storage, and even natural light. If your kitchen feels a little lacking, perhaps it is time you considered a kitchen remodeling project in Downers Grove.
A kitchen's beauty in Downers Grove also depends greatly on how it looks. This includes important aspects such as color, space, storage, and even natural light. If your kitchen feels a little lacking, perhaps it is time you considered a kitchen remodeling project.
CHALLENGES OF KITCHEN REMODELING
Many family memories are made in the kitchen and it is probably the most used room within the home, therefore it is most likely to be in need of renovations. Given the central role it plays in your home, your kitchen should be a place you love and are proud of. Kitchen remodel designs may include creating airy open spaces by taking down unnecessary walls, creating islands that make the best use of available space. With to the amount of activity that takes place in the kitchen, we'll help you ensure that your kitchen is not only beautiful but also functional.
The kitchen is one of the most challenging rooms in the whole house to remodel and can also be a bit straining on the budget. It also requires a great deal of planning and when it comes to the actual job, skill and experience are absolutely essential.
That is why you need nothing less than the best professionals to take care of it. Here at Sebring Desing Build, we have handled many kitchen remodeling projects. Our vast experience in the field combined with the unmatched skills of out experts, ensures that your dream kitchen is just a wish away.
Before you say that a redesign will be too difficult, reach out to us and we will give you our professional take. In the end, the money you spend is incomparable to the eventual beauty and warmth exuded by your new Downers Grove kitchen space.
WHY HIRE SEBRING TO DESIGN AND REMODEL YOUR KITCHEN
The kitchen is a sensitive area to remodel. A small mistake can cause huge problems later on. This is why we guarantee nothing less than quality to our Downers Grove, IL customers. Our detail-oriented team will ensure that every aspect of the kitchen design is done to perfection.
And when it is done, you will marvel at the unbelievable beauty your kitchen has turned into. Call now to talk to a kitchen remodeling expert and discuss your options.
DOWNERS GROVE BATHROOM REMODELING AND DESIGN
How is your bathroom? Does the thought of taking a bath in it feel dreadful? Perhaps you have never had a reason to take long baths because your bathroom is anything but relaxing. Does your bathroom experience never-ending problems, costing you money with each repair?
Worry not, we are here to help. Our Downers Grove IL bathroom design and remodeling services will deliver the bathroom you have always dreamed of, everything done to perfection by a team of highly experienced professionals and at a price that is friendly to your pocket.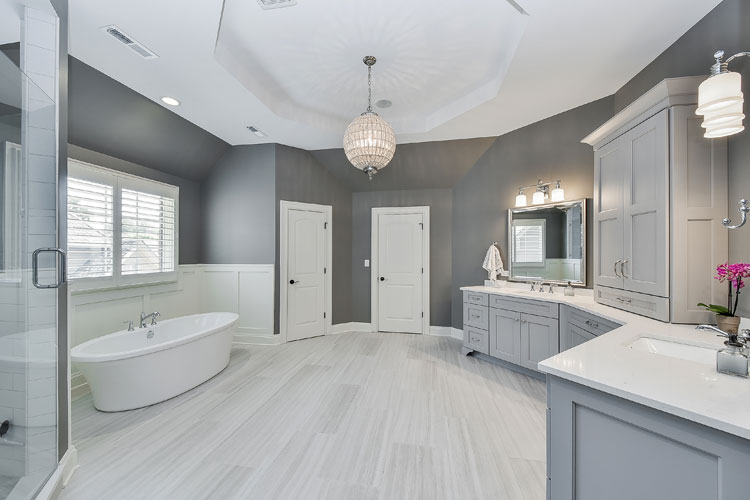 PLANNING YOUR BATHROOM REMODEL IN DOWNERS GROVE
The secret to a great design that you will love and enjoy for years to come is good planning. What changes do you want to be made to your bathroom? With our years of experience in and plenty of skill, we can take on a variety of remodeling and design challenges in Downers Grove. So whatever you have in mind regarding what you want your new bathroom to look like, do not hold back.
The first thing to consider is the bathroom's functionality. How often is the bathroom used and by how many people? How much storage will you need? Do you use the bathtub often enough to make it a necessity? Are there any accessibility requirements that need to be included in the design?
The remodeling plan will also take into account what current problems you are experiencing. Is the space too small? Is the bathroom too dark? Is the floor too slippery? These issues can then be tackled individually during remodeling.
Finally, consider the décor. Is there a particular style you would like to see? It can be a change in wall color, toilet design or amount of natural light coming in.
Once you have the basics of what you want, talk to us and we will be more than glad to help you in working out the final project plan for your Downers Grove Bathroom.
Your bathroom is a special space in your home where you can escape the stresses of daily life and take time to relax, rejuvenate, and refresh as you begin or end your day. If it is not warm, comforting, and inviting, then it probably needs some design and renovation. Amenities we have completed in past projects include: heated floors with thermostats that are programmable, custom cabinetry, shower enclosures and benches, shower systems, vanity cabinet towers, built in niches and shelves as well as counter-tops.
For a taste of our services, here are some of the great things we can do for your bathroom:
Installation of new flooring such as ceramic tile, porcelain, glass or natural stone. The right floor for you will depend on your tastes, needs, and budget.
Installation of handheld shower heads and body spray shower systems.
Built-in storage including niches and shampoo shelves.
Installation of bathroom storage such as above toilet cabinets, lighted cabinets, and linen cabinets.
Installation of customized glass shower enclosures and shower benches.
Heated bathroom floors with programmable thermostats.
We have tackled many and varied bathroom remodeling challenges and you can be sure that your bathroom will be in the hands of the best. Whether big or small, do not hesitate to call us with any bathroom remodeling project you have in mind.
CALL US TODAY TO BEGIN YOUR BATHROOM RENOVATION PROJECT
Our goal is to leave each Downers Grove IL client with a bathroom they can be proud of; a place they can relax and enjoy immensely.So what are you waiting for? If you think your bathroom is in need of an uplift contact us today. We are going to discuss your ideas further and advice you on various matters including project price estimates and time requirement before getting down to the real work of turning your ordinary bathroom space into something from your dreams.
So what are you waiting for? If you think your Downers Grove bathroom is in need of an uplift contact us today. We are going to discuss your ideas further and advice you on various matters including project price estimates and time requirement before getting down to the real work of turning your ordinary bathroom space into something from your dreams.
DOWNERS GROVE BASEMENT FINISHING & REMODELING
Would you like to bring order back into your Downers Grove basement? Scattered toys can be a bit messy and your teenager may need a place where they can meet their friends in peace. It is about time you made use of that basement space! A finished basement remodeling project would help in creating an extra area for any activity that you would like. From a beautiful playroom space for the kids to a nice place for working out, the choices are endless. The transformation is not easy but it can be done well with the right company.
With over 400 Downers Grove basement remodels under our belts, you can be confident that when we are done, the neglected dark and dingy basement will not be the same. Wondering what to do with your basement? Basements can be converted into game rooms, bedrooms, workout rooms, bathrooms, TV areas, wet bars, playrooms, and offices. We also offer specialty items such as custom wine cellars, fireplaces, custom ceilings, wainscoting and crown molding. Your basement design will be customized just for you and your family.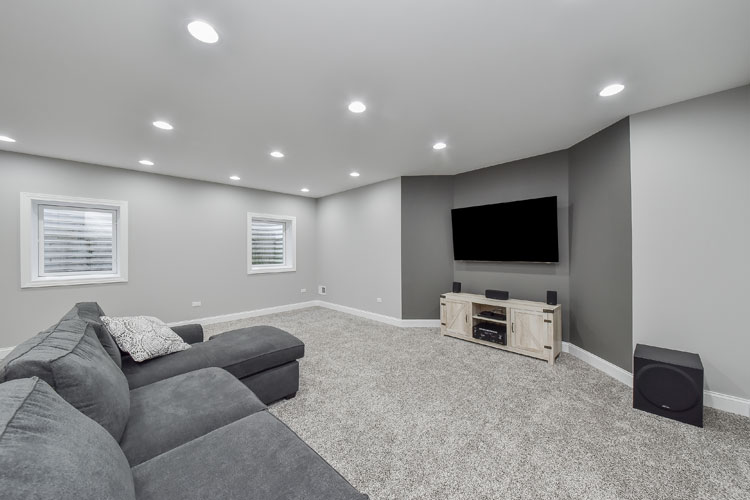 At Sebring, we have built an amazing basement finishing process in Downers Grove. Our reputation precedes us throughout Downers Grove, IL, and the surrounding areas, making us the go-to company for basement designing and remodeling requirements. Our happy clients have enjoyed unique basement remodeling projects done by us since 1999. Whether it is a complicated home spa or a simple TV area, we have a step by step process that changes that dingy and dark space into a well lit finished space for use as needed.
Common Basement Remodeling Ideas in Downers Grove.  You may choose to turn your unused basement into:
Bedrooms: For guests, a long staying relative or a teenager.
Gyms: They could be made with extra lighting, large mirrors and padded floors.
Playrooms: For children to have their space and enough room to play.
TV areas: They could be simple or complex, with a built-in theatre.
Game rooms: From pool or ping pong tables to all kinds of games that you enjoy.
Home bar: It could be a simple wet bar or a complex home pub.
Bathrooms: You may opt for a simple bathroom or a home spa with a steam room and other facilities.
Special rooms: Home offices, wine cellars or fireplaces.
Basically, the idea could be quite simple or very complicated but the best part is that we can design and model the basement to suit your needs.
WHY HIRE SEBRING TO REMODEL YOUR BASEMENT IN DOWNERS GROVE
We have a team of professional experts who will be involved in your project from start to finish, ensuring that everything is on track. They will handle the project materials, coordinate the contractors, and constantly inspect the project for quality purposes. To make it easier for you to have control over the project 24/7, we have established an online project management program for you to communicate and oversee approvals so the end product is exactly how you would want it to be.
So far, we have been involved in over 400 basement finishing and remodeling projects all over Dupage County and in Downers Grove. You can check Angie's list, Google Reviews, Houzz, or Yelp for our clients online reviews. With us, you can be sure that your project will be done to the best standards and finished within the set time. .
Have any ideas for your dream basement? Do not hesitate to contact us! We will discuss and improve on those ideas to provide you with the very best finished basement in Downers Grove, IL. You can also download our free eBook 'Remodeling 101' for tips on finding the right contractor.
DOWNERS GROVE HOME ADDITIONS
From creating a nursery for the newest member of the family, to enlarging the dining room to host holiday gatherings, more living space means more warm, lasting memories. With countless options to choose from, we'll help you get the extra room you need to keep creating those special moments.
Do you love your neighborhood but need a bigger kitchen?   Are you expecting a new addition to your family and need another bedroom? Is your growing family feeling cramped in your current home?  There are plenty of reasons why you may consider a home addition.  Regardless of why you are considering investing in your home, we can help you through the remodeling process and bring all the details together to achieve your dream space.
Great Ideas for Home Additions:
Expand Your Small Kitchen into a Gourmet Eat-in Style Kitchen
Create a Large Family Room
Expand Your Master Bedroom and Bath into a Luxury Retreat
Add an Entire Second Floor to Your Ranch Home
Add a 1st Floor Bedroom for Your Aging Parents
Designing Your Home Addition
Bring us your architectural drawings and we will bring your project to life.  If you need help with design, contact us for a referral for a local architect that can help put your ideas on paper.  Once we have drawings, we can accurately help you put together a scope of work and assist in bringing together all the interior finishes including: cabinets, flooring, countertops, tile, paint etc.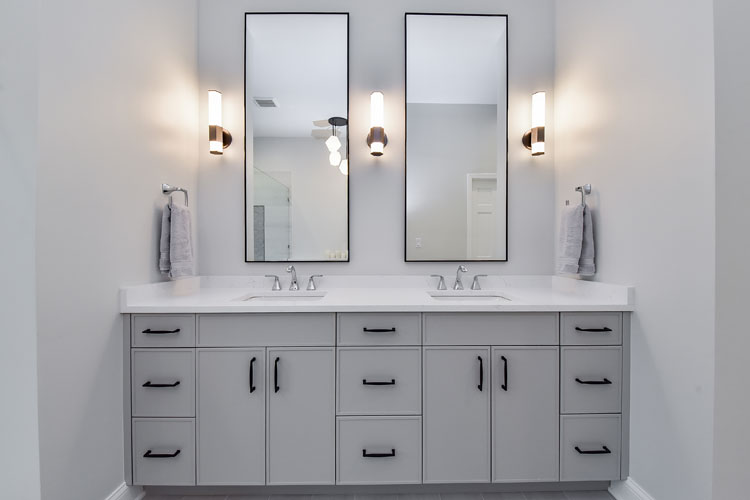 Construction Project Management
Our project management team will assist you from demolition to final inspections. Our online construction management software will help you stay organized throughout the entire project. All communication including material selection choices, change orders, the construction schedule, questions &  answers are neatly organized so no detail gets forgotten.
If you are looking for a home addition contractor that can make the process of adding a home addition enjoyable and succesful, please contact us at Sebring Design Build. Or, if you need help in finding the right contractor, download our free E-book: Remodeling 101.
Whatever the scope of the project, from single room remodels to whole house renovations, we will work with you to ensure the final result meets your expectations. Whether you are in Downers Grove or Wheaton, get in contact with us and discuss your remodeling ideas. With Sebring Services' custom approach, we'll work with you and help you turn your dreams into reality at a great value to you. We will also break down the project into manageable steps to ensure your home is a comfortable place you can be proud of.